One day, I had an unction from God to pester Vivian, a group member, to see a doctor. Every day, it seemed like she was on my heart along with a message that we won't live to be old if we don't take care of ourselves, and that includes medical treatment when God leads.
So, I let her know what I had heard and suggested she see a doctor.
A couple of weeks later, I started feeling the same unction again. I was showering and getting ready to walk out the door to flee from Hurricane Irma when God put Vivian and her health on my heart again. Vivian needs to see a doctor. So, I messaged her and told her the Lord put her on my heart a second time to make her appointment. I asked if she had made an appointment yet. She said, No.
I really knew nothing about Vivian's life or health. Zero. She is a very private person and rarely shares her day to day, like, never. But God was showing me something, and if He was showing me, she needed to see a doctor.
She said, "Wow, forgot it, I will make sure on Tuesday blood pressure been high, headaches, hmmm getting kinda worried now."
"Don't worry just make your appointment," I said, "Remember… he's telling you to get regular checkups and stay on top so that you CAN live a long life. Not because it's too late."
A few weeks later, she posted this: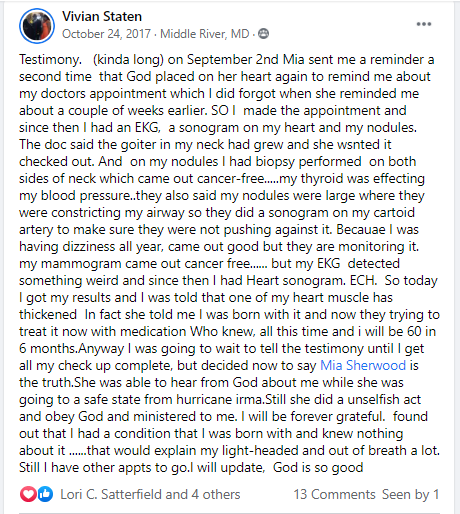 Amen!! He is good!
And that's how it goes when we learn to follow God. He leads everyone differently. Any issue we face will be solved if we listen, believe, and follow.
Featured image: "Stethoscope" by a.drian is licensed under CC BY-ND 2.0